Well... The beast is dead.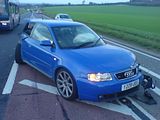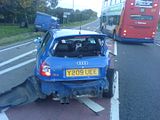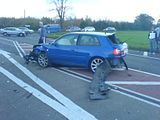 And i walked away with a cut on my face and a headache and some bruising.
Im coming down the hill and as i get to the junction and a black BMW pulls accross in front of me... no problem there is enough room. i just brake gently to give him space... as he clears the road i let off the brake... but then suddenly the silver mazda 626 pulls out leaving me ZERO time.... i cant even remember if i braked again or not... SMACK into his front end spinning him 180. All my airbags go off and i start to spin anti clockwise heading for a field but i look out my drivers window and see a transit van coming the other way skidding to avoid me... BANG i hit that spinning me the other way (but stoping my path of certain barrel rolling in the field) and leave me facing the way i came.
Horn and all kinds or warning beeps going off in my car, im a bit dazed. open the door. walk to the verge. lay down.
I reckon the impact speed was 50-60mph and it was so lucky i didnt hit the mazda side on... would have been much worse for me and him.
MAzda driver was apologetic.. says he didnt see me (he was looking the the black bmw turning into his road and waiting for him to clear his path so he could turn out). Transit driver hurt his knee.
Amazing everyone was ok!!!
i was on my way home from go karting (we came second by the way /ubbthreads/images/graemlins/wink.gif ) and my helmet in the boot ended up in the field (will have to claim for that aswell)...... maybe i should have been wearing it though :roll:
Be carefull kids!! I was lucky.... VERY LUCKY!