Originally posted on behalf of DetailingWorld.co.uk
*~*~*~*~*~*~*~*~*~*~~*~*~*~*~*~*~
Audi RS2
"Audi what..?" let me explain:
The Audi RS2 Avant was a limited edition, high performance Audi estate car / station wagon, sold from 1994 to 1996. Collaboratively designed by Audi and Porsche, and built on Audi's 80 Avant, it was the company's first "RS" vehicle,[1] and the first of their high performance Avants; it used the most powerful and most thoroughly developed version of the company's turbocharged inline-5 cylinder engine.

Although it was never exported outside of Europe, except for a few to Hong Kong, South Africa, Brazil and New Zealand, the RS2 has amassed an impressive cult following worldwide, and it is often regarded as being the vehicle that finally firmly established Audi as a producer of practical high performance vehicles; its estate body, and standard quattro permanent four-wheel-drive system made it usable as a comfortable daily driver even in poor weather conditions.
To my knowledge there are ~120 left in the UK, so you could say they're pretty rare.
I *think* this car was previously owned by a very reputable member of DetailingWorld; I have dropped them a PM to double check.
This job follows from my
Porsche Boxter
job I did last weekend. I've been looking forward to this all week, so, here goes!
*Please NOTE:
I had left my 18-70mm lens at home (forgot to put it back in my kit bag after cleaning it last week
I didn't get on too well with the cold/damp/condensation. This really did play up when coming to the polishing/buffing stages
The interior has had to be left till another time. 9 hours work solid on the exterior alone (without correction….!?!!)
Process & Product
1. Clean/dress/polish engine bay
2. Clean shuts, sills and detail areas
3. Wheels/arches
4. Foamed > Body wash
5. Tar removal
6. Dry
8. Polished
9. x 2 coats of LSP
10. Wheels sealed
11. Tyres dressed
12. Interior mats cleaned
13. Exhaust polished up
14. Windows & final buff over
15. Leather treated
16. Further coat of LSP
17. Interior dressed/waxed/cleansed
· AutoSmart G101
· Megs Gold Class/Ultimit
· Megs SuperDegreaser
· Megs LastTouch
· Megs Wheel Brightener
· Megs Endurance Tyre Gel
· Chemical Guys Wheel Guard
· Chemical Guys New Look Trim Gel
· Jeffs Werkstat Prime, Acrylic Jett & Glos
· Victoria Concours Wax
· Tardis
· Belgom ALU & AG Metal polish
· Wire-wool
· AS Blast
· Relentless
· Jaffa Cakes
· Gliptone Leather Cleaner & Conditioner
· 303 Areospace
Although there wasn't a massive spec for this job, it seemed to go on forever. It was a nightmare if I'm honest, I really did struggle.
Process
Fifty minutes into my journey, I note how cold it actually is: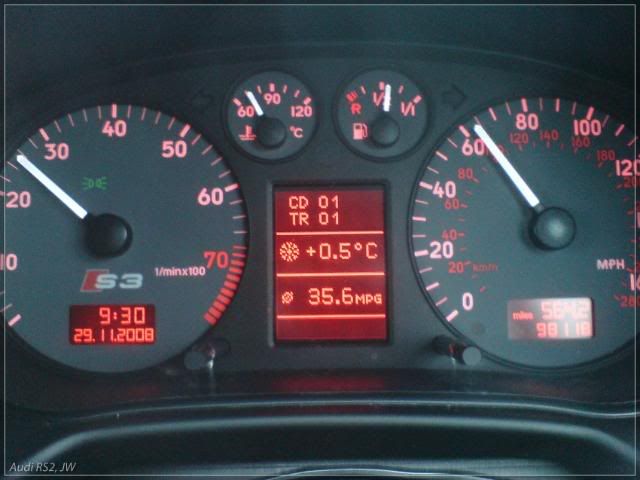 Last week, sure it was cold, but throughout the job I felt fine. Only when I was packing up/stopped for a tea or coffee did I ever feel the bite in the air. This time, I'd come well prepared: x2 pairs of socks. Boxers, shorts, combats. Vest, thermal top, DW T-shirt, Fleece. Change of footwear and a hat!
First things first, a passenger ride in the car in question. Our excuse was that we needed meat from the butchers, however, we got a little 'lost'. On the way back we stumbled upon a private test track and watched the average MPG drop, rapidly! An awesome motor though, it has to be said.
Check
YouTube
for a few vids of what these cars can really do.
Back to base, a cup of coffee and a quick chat, I'm then working out how to best tackle the day. (Knowing it's dark by 4pm)
To kick things off, I thought I'd pop the bonnet and give it a bit of a wipedown..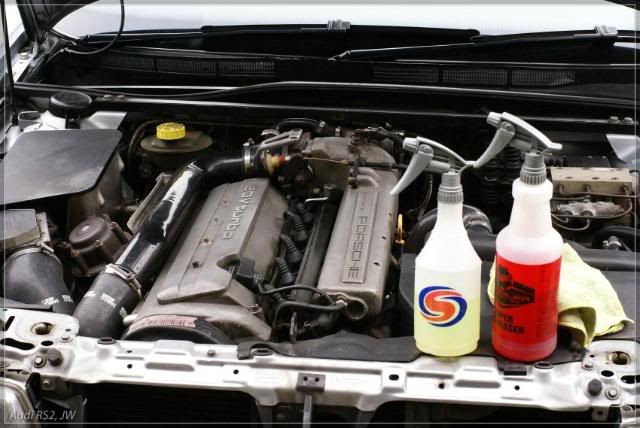 Using a mix of G101/SuperDegreaser, MF's and brushes various, I worked all plastics & bodywork and then followed round with a clean MF to wipe dry.
Metal was brought up with BELGOM ALU: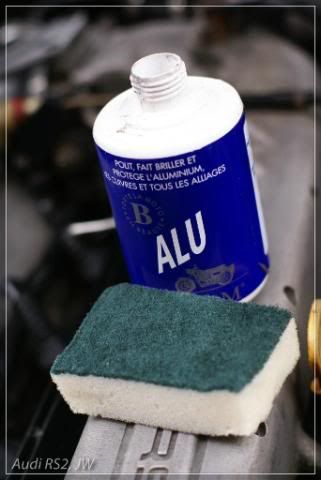 Before: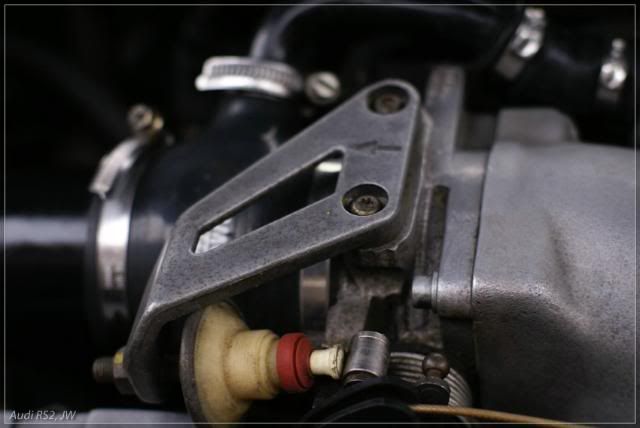 After: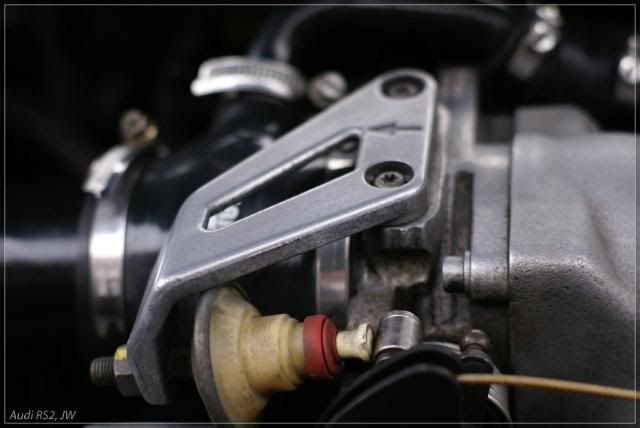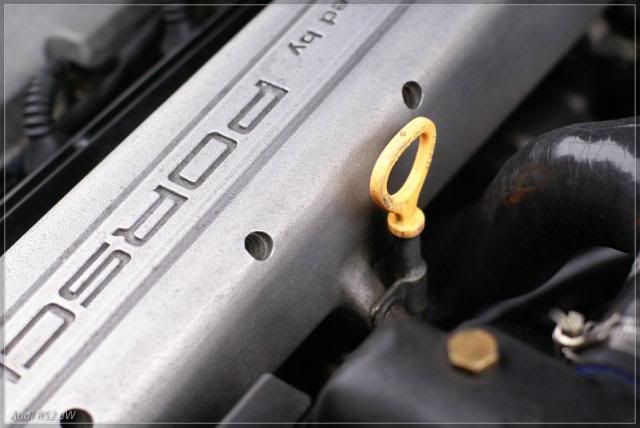 Tough to distinguish on the photos, but the block was quite worn and pitted. Lots of degreaser along with the BELGOM ALU & elbow grease, I feel it came up quite well.
The trouble is, I'd spent about an hour working already at this point; I had to crack on. I continued to work the main areas, dressing plastics with CG New Look Trim Gel and silicone hoses with 303.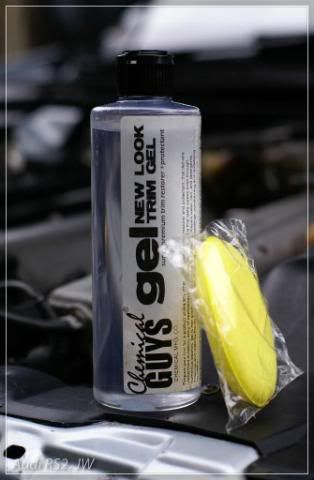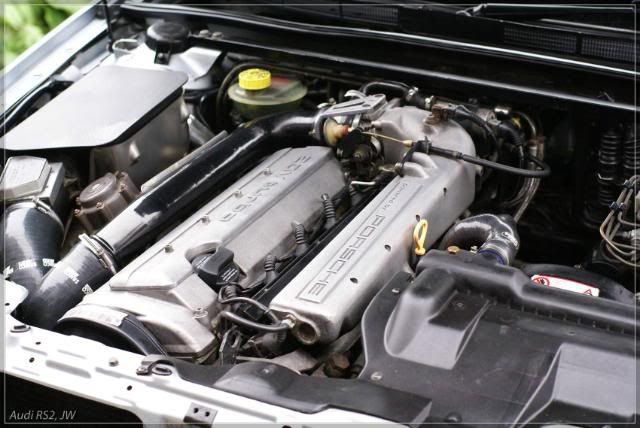 The hood was then dropped and I questioned what would be the next best section to target:
Sills and shuts.
Again, using G101, S.DG and brushes various.
They weren't too bad to begin with: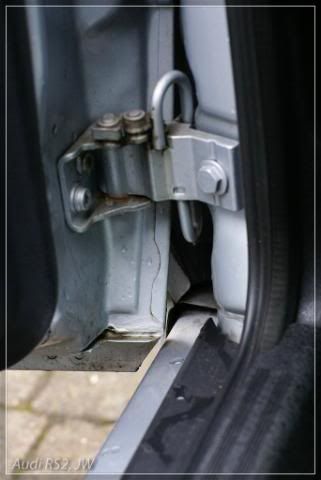 But brought up nicely in any case: (minus the odd patch of grease)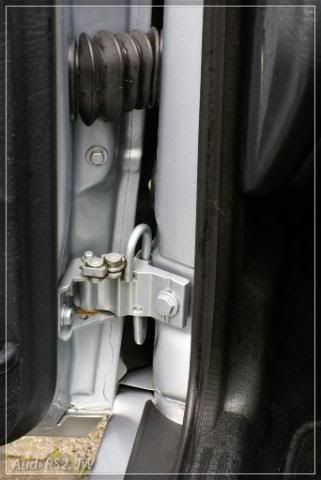 Wheels & Calipers.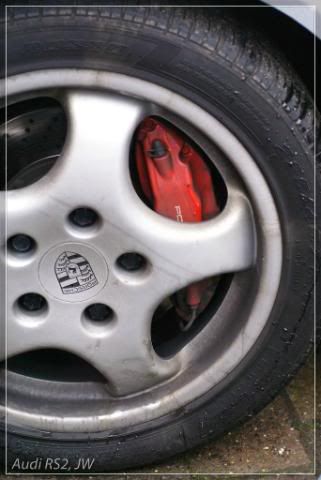 Dejavu
Starting with a good scrub to the tyre wall, Megs WB was then applied, agitated and rinsed to leave the EZ Detail Brush for cleaning deep into the rim.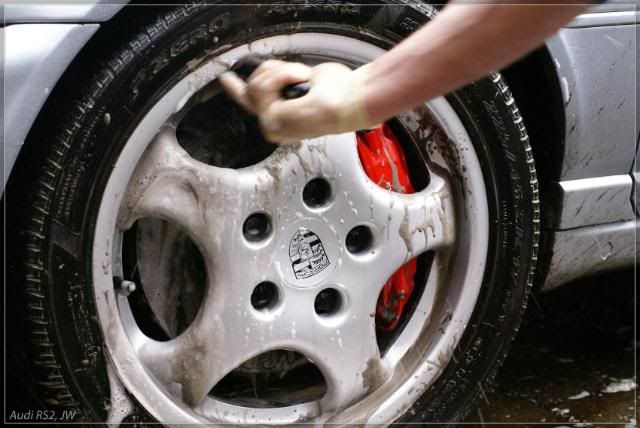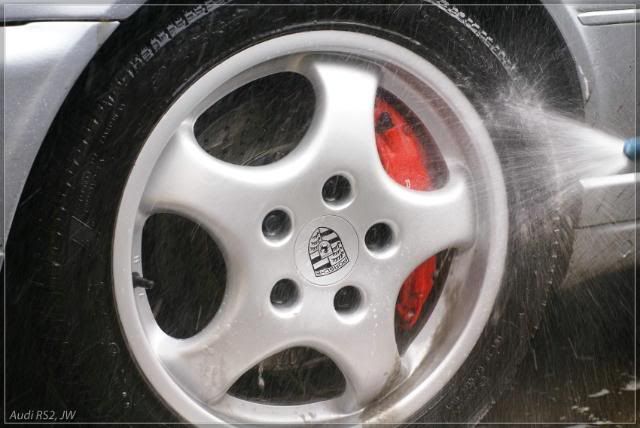 The callipers were cleaned with a selection of brushes and Megs Degreaser. (It's a real pain having to move the car to gain access to areas that were previously covered!)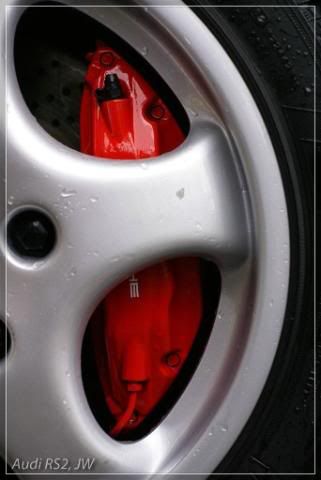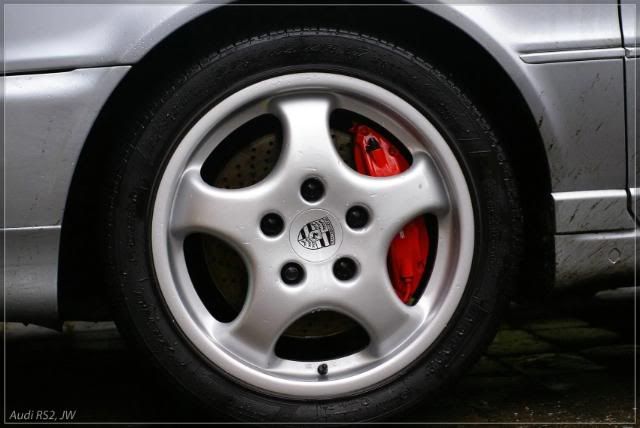 You remember
Bill
, right? I took him a few treats today, however he was more interested in his Unicorn..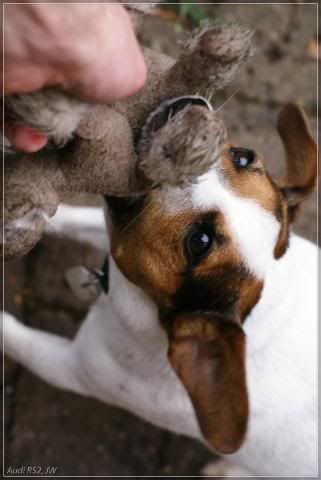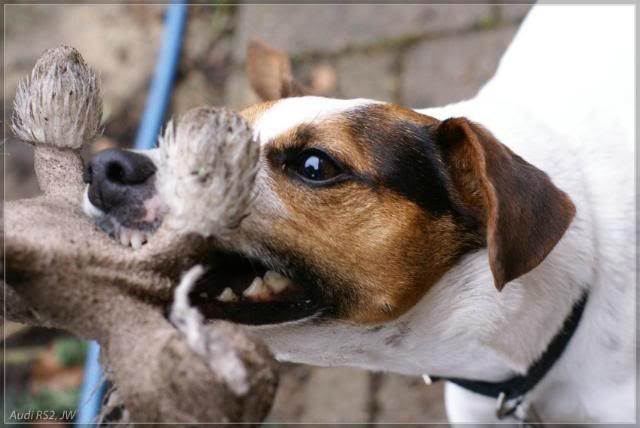 *grr!*
Bacon sarnie round II! (I was really well fed today, happy days)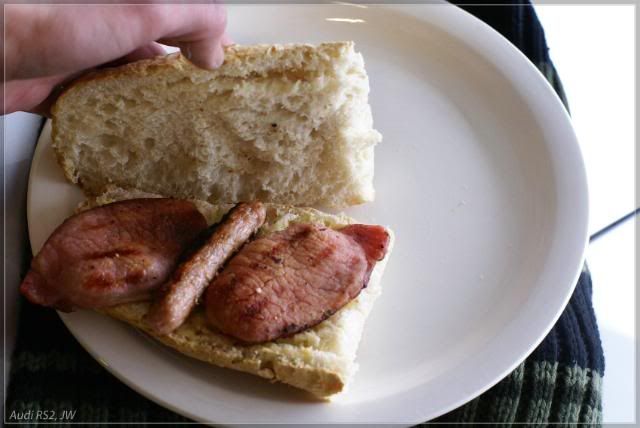 (Impersonating Bill)
Jim vs Time - Time was winning, I'd spent a good few hours on the car already; I'd barely even started!
Foamed, and I did a little run around with G101/detail brushes cleaning those 'hard to reach' areas: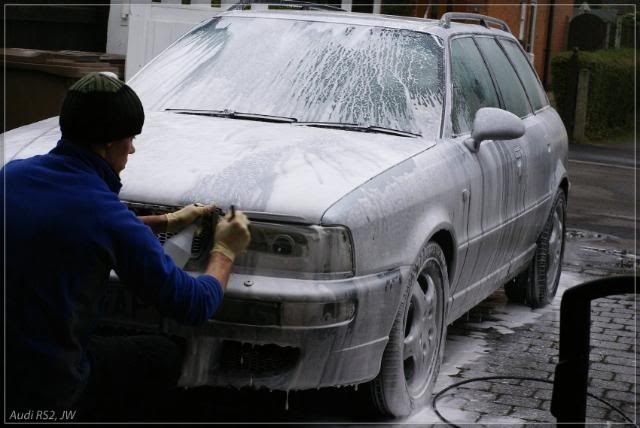 Foam left for 5 more mins: